tandem 2 torquay
Abingdon Young Farmers came up with the crazy idea of cycling to Torquay on tandems to raise money for local charity Blue Skye Thinking (research into treatment for childhood brain tumours). On Tuesday 18th April 8 members set off from Abingdon market square on 4 tandems: Dave, Christina, Verenique, Lauren, Danny, Isobel, Darren, and Rebecca.
We later found out that Abingdon YFC had done the same 36 years ago to Blackpool in the snow! We were joined by the support van run by Andrew and Kim who met us at the various stops and carried all our kit and tools. We managed to get a little crowd together to see us off including Skye's family. We were lucky with the weather despite it being very cold the sun was shining every day.
Isobel managed to secure us accommodation along the way and, in true young farmer spirit, clubs and counties across the country showed their support by greeting us as we arrived, gave us a bed to stay in and cooked us breakfast and dinner each day (we really were spoilt with the feasts they provided us with). Devizes YFC in Wiltshire made us a very tasty tiffin cake, Sherborne YFC in Devon took us to the pub to meet the rest of the club with drinks ready and waiting for us. Whimple & Broadclyst YFC also in Devon let us stay in a massive B&B! We were genuinely overwhelmed by the kindness shown by the clubs and families that hosted us.
We collected lots of donations along the way - the friendliest town was Crewkerne where complete strangers stopped to chat and donate. Rebecca's parents saved the day on our toughest day, the bikes had needed to be fixed and we were behind schedule we had 8 hangery cyclist as all the pubs had stopped serving food, they managed to convince a hotel to make us a massive sandwich buffet which they treated us to.
Our favourite part was cycling through the Ford with our legs in the air getting drenched as we sped through the water and going 30mph down the hills, those tandems can really pick up the speed (we managed to set off the 'slow down' signs multiple times!). On the last day we hadn't anticipated the horrendous hills (20% gradient!) our bums were very sore by now and our thighs were burning but we powered on to complete the 210 mile journey. We had a quick stop at Salt and Pepper who had some much needed cold pints of cider waiting for us and a £50 cheque!
But nothing beat the moment we arrived to a cheering crowd of Young Farmers and the Farmers Guardian cameras made us feel like celebrities! Mike, Skye's grandad greeted us on arrival and kindly treated us all to lunch. Afterwards we celebrated with magnums of Prosecco that were donated to the team - a great way to start the AGM. The experience was a real test of character, it pushed us all to our limits and everyone agreed it was the most difficult thing they had ever done. We are so proud of what we have achieved. The total amount we raised was £5,000 which smashed our original target. We would like to thank everyone who donated and all the clubs, businesses, famiy & friends that supported us along the way.
watch our video below:
(view on computer only)
over £5,000 raised for Blue Skye thinking!!!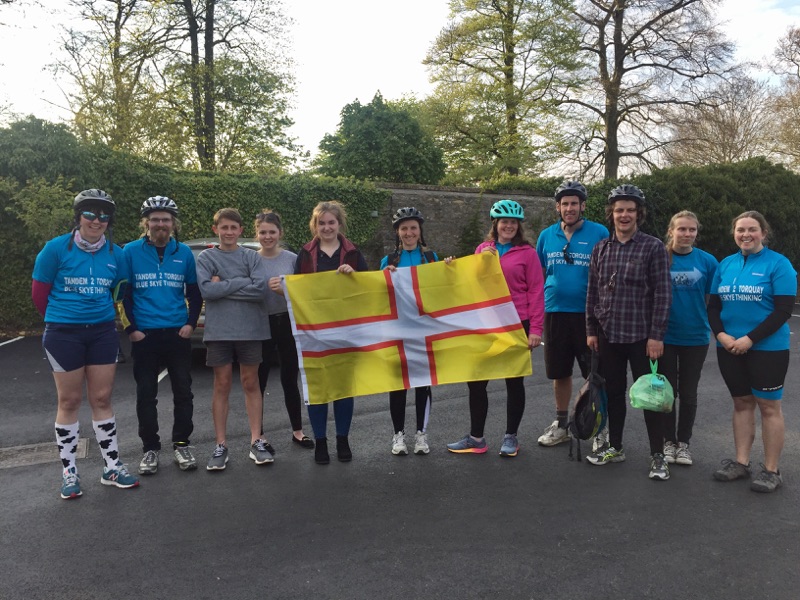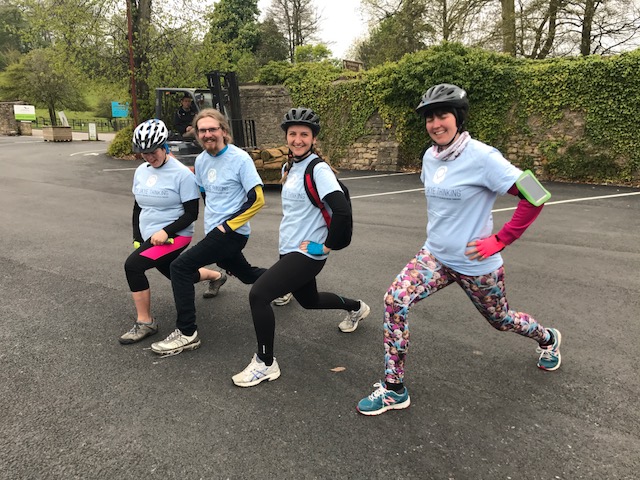 OXFORDSHIRE Young farmers COUNTY SHOW 2017
The Show raises money to keep Oxfordshire YFC running. Nationally we are one of the largest rural youth organisations in the UK dedicated to young people who have a love for agriculture and rural life. Led by young people, for young people, Young Farmers' Clubs provide 25,000 members aged 10 to 26 with a unique opportunity to develop skills, work with their local communities, travel abroad, take part in a varied competitions programme and enjoy a dynamic social life.
The Young Farmers themselves will be competing in over 100 various exhibition and practical classes. Over the year we have been learning new skills ready to compete against the Oxfordshire Clubs in the competitions that are held on the day. These competitions include farming skills such as mini digger handling, ATV efficiency and safety to domestic classes such as cookery and flower arranging, as well as fun classes such as blind fold cake decorating and cocktail making.
On the day there will be many attractions for the public to watch such as the tug of war finals, a display of various tractor machinery through the ages, a motorcycle display, fun dog show, and a farm animal corner. An exhibition and practical areas are set up for the Young Farmer to display and compete in competitions such as bricklaying, woodwork and painting/drawing. There will also be a display of Floats pulled by tractors; this year's theme is 'around the world'.
At the event we will have a selection of craft and trade stands, with sellers of local produce and handmade goods.
brookes tv
Over the course of two meetings in January and February 2016, we had student film crew from Brookes TV visit us to film a segment on loneliness for one of their assignments. The four person team, headed by Mariana Costa were very thorough and extremely professional whilst filming our Hungry Hippos meeting at The Boardroom, and Bicester's Club at County event at Oxford Ice Rink. Programme Secretary Isobel Mogford, Sports Secretary Danny Humphry and Philippa Brunt had their interviews shown on camera. You can see the segment from 4.49-7.18 here. https://www.youtube.com/watch?v=LMUapEoYQ20&index=1&list=PLD00395D7738D36A0
County Sports WEEKEND
On Sunday 31st January, it was the Oxfordshire Young Farmers County Sports Competition. We entered a team into the county hockey match, and despite having a great day out, we came joint last with Farringdon. There's always next year!
nATIONWIDE COMMUNITY MATCH SCHEME
Abingdon Young Farmers have been nominated for Nationwide's Community Match Scheme! Community Match is a local in-branch voting scheme, whereby Nationwide customers can choose which of three local charities they would like to award £500 to. We are being featured in branches in Abingdon, Oxford, Didcot, Wallingford, Henley, Thame, Princes Risborough and Aylesbury. You can vote for us from 1st February until 29th April.
agm IS approaching!
The Young Farmers National AGM is fast approaching! This year it is being held in Blackpool from the 9th-12th May, with a three day package costing £173. Abingdon is taking deposits now, and will be asking for the balance in due course. You can find out more about AGM on the National Federation of Young Farmers' Clubs' website; http://www.nfyfc.org.uk/AnnualConvention/annualconvention?AspxAutoDetectCookieSupport=1
Skiing!
Two weeks ago, some of the Seniors travelled to Les Arcs for a week of skiing, snowboarding, adventuring and yummy meals. Led by our very own Isobel Mogford, South East Area Rep for the skiing trip, they scaled high mountains, only to rapidly descend in minutes! An exciting time was had by all, and Blake Hallam compiled a video afterwards to show off the fun had on the slopes.
https://www.youtube.com/watch?v=iN2jIhPTehY&feature=youtu.be
WE WON!! (again!)
Sunday 24th May saw Henley YFC hold the annual Oxfordshire Young Farmers County Rally and after a lot of hard work by all the members we won for the second year in a row!
The secrets to our success... as a club obviously being awesome! and enter everything you possibly can!
OFYFC COUNTY RALLY AND FAMILY FUN DAY 2015! - ARE YOU COMING?
This year Henley YFC are hosting the Oxfordshire County Rally. The event is taking place at the Fawley Hill Estate, Henley-on-Thames, RG9 6JA.
This will be an action packed day including young farmers competitions, local trade stands, rural entertainment and much more! A perfect day out for the whole family! Only £5 per adult, £3 for 10-16/Concessions and Under 10 FREE!
Junior Tractor Handling!
Congratulations to four young ladies from Abingdon Juniors, who successfully completed the fourth Tractor Training course, kindly hosted by the Homewood family at Peach Croft Farm on Saturday 4th April . They were Hannah Richardson, Lucy Goudge, Lorna Cottrell and Emma Richardson.
Great start to 2015!
We know it's now nearly the summer, but since January we've been super busy with Abingdon YFC going from strength to strength, we have more members than ever, taking part in lots of activities and raised lots of money for our two charities!
January started off with the YFC National Ski Trip to Tignes, in February we hosted our Valentines Ball raising over £800! We've also been sausage making, had a roving supper and most recently 12 of our members attended the NFYFC AGM in Torquay!
Results from the mini rally have now been announced and congratulations must go to…
Truman and Fenny – 1st Intermediate Nature Trail
Andy and Emma – 1st Senior Nature Trail
V – 1st Senior Horse Knowledge
2nd to Will Farrant and 3rd to Andrew Ford in Int. Beef Judging
1st to Katie Homewood and 3rd to Lorna Cottrell in Junior Sheep Judging
1st again to Lorna Cottrell in Junior Beef Judging
Well done to everyone who took part and as I'm writing this we are currently building our float and looking forward towards another successful Rally on Sunday 24th May! Good luck Abingdon!
Junior County Quiz!
A massive well done to everyone who took part in the junior quiz, it was a fantastic night and thank you to everyone who helped to make
the night a success.
The winning team this year was; Katy Homewood, Oli Beaumont, Ben Cottrell Lucie Richardson and Abi Richardson from Abingdon!!
This was the 3rd consecutive time that this team has won the junior quiz!! Fantastic!! £55 was raised from refreshments for Footsteps charity!!
Juniors Charity Tug of War Victory!
On Saturday 11th October, Abingdon Juniors bravely entered a Charity Tug of War match. It was at the Oxfordshire Fire & Rescue Service Family And Fun Day being held at Wallingford Fire Station.
The Juniors won both pulls against The Keys Pub team and won one pull against
Blake Hallam & his Firestation pals! They unfortunately did lose against a combined Thames
Valley tug of war team however unlike the Juniors they do train regularly!!
It was an amazing sight to see the Juniors pulling grown men across the field - they really excelled themselves! Much laughter from the pub team as we proudly beat the firemen for one pull until it was their turn. . . .they were on the floor after one pull. . .
Well done guys! Great effort and great practice for the 2015 rally!
Abingdon Senior's annual AGM took place last night, thanking the old committee and wishing the new committee well for the coming year. Most importantly we were really proud to present our chosen charity for the year Oxfordshire SANDS, with a (massive!) cheque for an impressive £1,200! Well done everyone for a great year!
4th Place for the Juniors!
On Sunday july 6th the Juniors made it through to the National NFYFC Badminton Competition, where they came in fourth place. Congratulations to the Richardson girls!
Abingdon wins the rally!!!
Abingdon Young Farmers have finally won the Oxfordshire Rally County! After lots of hard work and some excellent skills, we pulled through against the odds and beat Witney. We also won the Seniors Club with the most points. Words can not describe how happy we all are with this achievement, it was very much deserved and long awaited.
An excellent achievement of 2nd in the float building competition, this years theme was movies. We decided to go all out and build a ship. Even we were surprised at how good it came out! We throughly enjoyed singing 'Yo Ho Yo Ho a pirates life for me' on repeat (not sure the audience did...)
So many first, second and third prizes. Such a great effort from both juniors and seniors this year in the exhibition tent. Click through the images above showing all of the prize winners. Well done to everyone involved, we'll be celebrating this for at least another month.
Time Capsule
The Abingdon Juniors time capsule was dug up at this years rally. It was buried in 2000, the year of the millenium. Some items inside included a news paper, some Macdonalds packaging some very out of date beers (hopefully these were put in by seniors!) and some photographs. If anyone knows anything about the time capsule please get in touch it would be great to know who filled it and the reason behind each of the items.